Valentine's at FIRE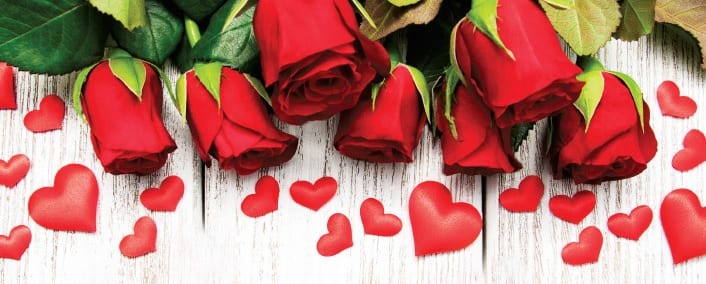 Valentines Dining at FIRE Restaurant Dublin
Love is in the air at FIRE Restaurant and Lounge this Valentine's!
Make your Valentine's memorable and dine in the most historical and impressive dining room in Dublin.
Enjoy our Valentine's Special 3-course set menu for €49.50 per person.


Starters
Cauliflower Soup (V)
Cream of cauliflower soup with gruyere cheese crumble
Fire's Duo Fish Cakes
Naturally smoked haddock & fresh cod fish cakes served with chilli and coriander jam, and pea shoots
Silver Hill Confit of Duck Salad
Silver Hill Irish confit of duck leg and crispy skin, with pomegranate seeds, mango slices, raspberry dressing and mesclun leaves
Fire's Wood Fired Jumbo Prawns (Supplement €5)
Wood fired jumbo prawns stuffed with sautéed chorizo and crayfish tail, cooked in olive oil and garlic butter.
served with homemade brown soda bread
Wild Mushroom Gratin
Herb Sautéed Mushroom topped with truffle and cheese crumb finished in our Wood Fire
With Rocket leaves and Garlic Croutes

Main Courses
10oz Irish Hereford Prime Aged Rib Eye Steak (Supplement €5)
Chargrilled Irish Hereford Prime Rib Eye, delicately marbled, with an eye of fat for a full-bodied flavour with chunky chips and
tobacco onion, Mixed leaf salad and a pepper and brandy cream sauce
8oz Irish Hereford Prime Aged Sirloin Steak
Chargrilled Irish Hereford Prime sirloin steak served with chunky chips, tobacco onion, served with a mixed
leaf salad and a pepper cream sauce
Irish Chicken Supreme
Roast Chicken Supreme on a Bed of Spring Onion Mash and Young Stem Broccoli
Served with a Chorizo, Ardsallagh Goats Cheese and Spinach Tartlet with a drizzle of Chorizo Cream sauce
Aged Irish Lamb Rump
Aged Irish lamb rump cooked medium, served with carrot crush, creamy mashed potato, asparagus tips and a
rich meat jus
Sea Bass Fillet with Lemon Shallot Butter Sauce
Seared fillet of Seabass, braised fennel and orange, sugar snap peas and herb poached potato. Finished with
lemon and shallot butter
Spinach and Ricotta Cannelloni
Stuffed Cannelloni Baked in Fresh Tomato Sauce
Topped with Cais na Tire Cheese and Parsnip Crisps. Served with Rocket Salad

Desserts
Hot Dark Chocolate to Share
Chilli Infused Hot chocolate, Honey Comb Bits, Vanilla Marshmallows, Cassis Sorbet, Roast Banana Ice and
Brandy Snap
Sticky toffee and date pudding
Salted Caramel Sauce and Cinnamon Ice Cream
Baileys Parfait
Frozen Baileys Parfait Sandwiched Between Bourbon Cookie
Served with Salt Butter Caramel and Brittle Honey Comb
Zesty Lemon Tart (GF)
A coconut baked base topped with zesty lemon cream, caramelised, and served with Glenisk clotted cream and
raspberry sorbet
White Chocolate and Raspberry Cheesecake
A light cheesecake with white chocolate and raspberries on a buttered Graham Cracker base

Tea or Coffee
Cappuccino, Caffe Latte and Herbal Teas are available (€1.50 supplement)


Our Valentine's menu is available from Wednesday 14th – Sunday 18th February 2018.