Valentine's Day at FIRE
Set your heart on FIRE this Valentine's Day in Dublin's most beautiful venues. FIRE Restuarant is located on Dawson Street, Dublin 2. This centrally-located, awarding-winning steakhouse is the perfect place to celebrate Valentine's Day.
Historic Venue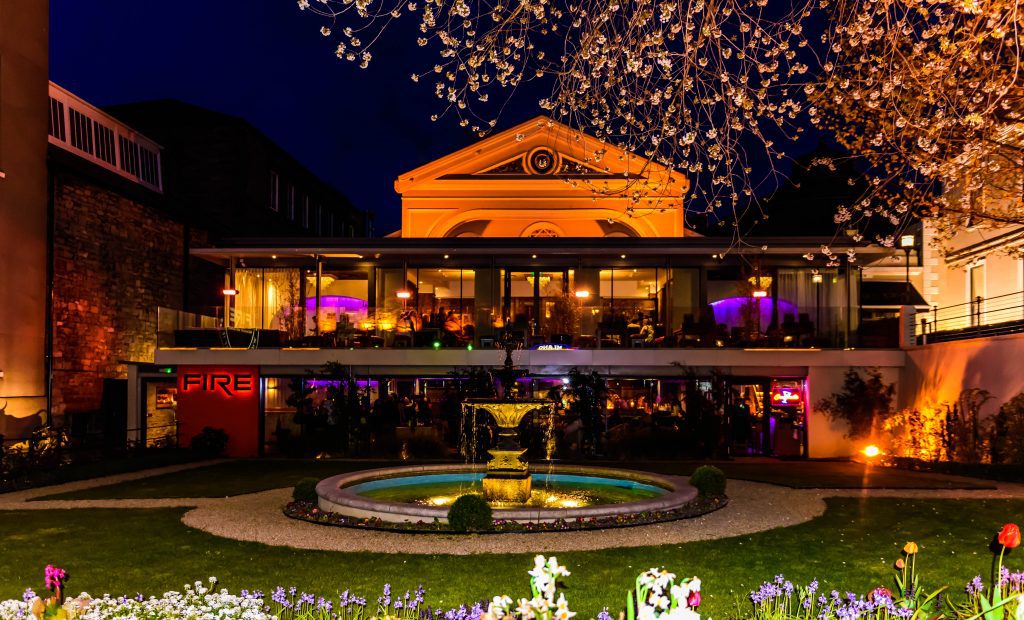 FIRE's dining room was built in 1864 and was formally the Lord Mayor's 'Supper Room'. Today, the Lord Mayor of Dublin still visits FIRE Restaurant to dine in this historic room. This room features beautiful vaulted ceilings, stained glass windows and a terrace overlooking the Lord Mayor's Garden.
Locally Sourced
The culinary team at FIRE pride themselves in creating dishes using fresh in-season produce that is locally sourced. Our Executive Head Chef, Richie Wilson and Head Chef, Ciarán Furlong carefully create each menu with pride, ensuring the very best Irish ingredients.
At FIRE, the chefs are firmly committed to serving the finest selection of meats. The award-winning steaks are created using the finest Irish Hereford Prime beef.
The Lounge

FIRE's cocktail lounge is the perfect place to relax before your Valentine's Day meal. Each of FIRE's spirits, liqueurs and wines are extensively researched to ensure that only the best is available. This lounge offers comfort and style while you relax with your loved one this Valentine's Day.
The Cocktail Menu changes seasonally, using the best in-season ingredients. The 'Victorian Secret' is the ultimate Valentine's Day cocktail. This cocktail is a combination of passion fruit liqueur, mango puree, a hint of vodka, shaken with egg white in perfect harmony creating a silky, sexy drink.
Our Valentine's Menu
€54.50pp.
Available Friday, 14th February.
Starters
Parsnip and Squash Soup (V)
A light blend of parsnip, squash & smoked paprika, spiced pumpkin seeds
Spiced Irish Lamb Skewers
Chargrilled lamb fillet, miso and mirin mayo.
Wood-Fired Tiger Prawns (Supplement €5)
Chorizo & crayfish stuffed, roast in garlic butter and olive oil, FIRE's soda bread.
Howth Smoked Organic Irish salmon
Roast capers, chive sour cream, lemon, FIRE's soda bread.
Sprouting Bean Salad (Vg)
Mixed beans, pomegranate seeds, pine nuts, micro cress, spiced Russian dressing.
Finca olive oil, red pepper & ruby grapefruit dressing
 Ardsallagh Goats Cheese (V)
Wood fire baked, pistachio & pecan crust, focaccia crouton. Pickled beets, chestnut honey.
 ~~~
  Main Courses
 8oz Irish Hereford Prime Aged Sirloin Steak
 Tobacco onions, Pont Neuf chips, micro cress salad, brandy pepper &cream sauce
     10oz Irish Hereford Prime Aged Rib Steak (Supplement €10)
Chargrilled, tobacco onions, Pont Neuf chips, micro cress salad, brandy & pepper cream sauce
Irish Chicken Supreme
Roast Chicken Supreme on a Bed of Spring Onion Mash and Young Stem Broccoli
Served with a Chorizo, Ardsallagh Goats Cheese and Spinach Tartlet with a drizzle of Chorizo Cream sauce
Monkfish
Roast monkfish tail, crisp smoked bacon, potato gratin, samphire, cockle and parsley sauce
Tortellini
Spinach & Ricotta, Jerusalem artichoke, rainbow cauliflower, Cauliflower Puree
~~~
Desserts 
Iced Praline Parfait
Gingerbread biscuit, cherry gel, crushed caramel, chocolate sauce
Raspberry and Blood Orange Band
Coconut baked base, raspberry ripple, white chocolate
Chocolate Brownie
Dark chocolate & hazelnut, peanut brittle, vanilla ice cream
Bar of white chocolate & raspberry cheesecake
A light cheesecake with white chocolate and raspberries, graham cracker base
Red berry coulis and isomalt
Irish Cheese Board (Supplement €5)
Spiced apple & plum chutney
~~~
Tea or Coffee
Cappuccino, Caffé Latte and Herbal Teas are also available (Supplement €2)
Book Valentine's Day Now
Book your dining experience now in Dublin's romantic FIRE restaurant.
T: 353 (0)1 676 7200
E: FIRE@mansionhouse.ie