FIRE Steakhouse & Bar wins "Luxury Steakhouse – Global Winner" at the World Luxury Restaurant Awards
Two of Dublin's top restaurants have won major accolades at the World Luxury Restaurant Awards 2020. The win has given the two Irish owned sister restaurants a much-needed morale boost during what is a difficult time for the hospitality sector.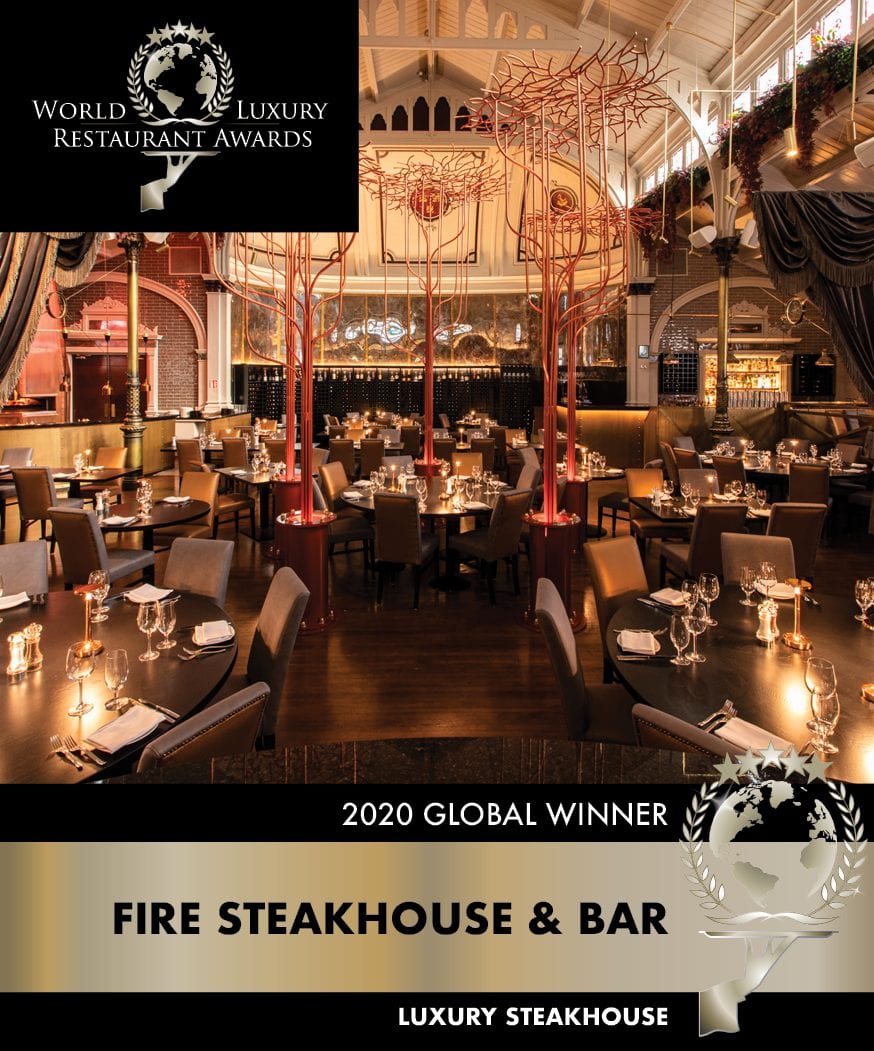 SOLE Seafood & Grill has been recognised as "Best Luxury Seafood Restaurant" in Northern Europe for the second year running at the prestigious awards, and its sister restaurant FIRE Steakhouse & Bar brings home the gong of "Global Luxury Steakhouse of the Year 2020". In February, FIRE invested €1.1 million euro on a fresh interior design fit- out and the rejuvenation of its menus and service experience, revealing its new look as part of its 15th anniversary celebrations.
Culinary Director of both restaurants (FIRE Steakhouse & Bar and SOLE Seafood & Grill) chef Richie Wilson said of the win; "I am so very proud to be part of the team who have truly earned the recognition that these awards give us. Winning "Global Luxury Steakhouse" with FIRE is just incredible. This could only have come from the passionate driving force that is our team, following the enhancements we have made to both the dining room and our menus. Sometimes it's harder to retain an award than win it, so for SOLE to have received the award for 'Luxury Seafood Restaurant in Europe' once again shows how aligned our teams are, consistently delivering a truly special dining experience in FIRE and SOLE"
Richie Wilson continues; "Both awards are a testament and recognition of our team's enormous dedication to Irish provenance, in both our food and our welcome. This has brought us to the world stage, delivering the ultimate Steak and Seafood experience in the heart of Dublin. The awards are appreciated all the more in the current uncertain climate, giving us an incredible boost for 2020 and renewed energy for 2021. I just can't wait for us to open our doors once again and share with all our guests the experience that has given us these amazing awards".
Dublin's most historic restaurant, originally built in 1864 as the dining room of the Lord Mayor, FIRE Steakhouse & Bar on Dawson Street is also celebrating a big win, having taken home the accolade for "Luxury Steakhouse – Global Winner" at the World Luxury Restaurant Awards 2020.
FIRE Steakhouse & Bar was also meant to be marking a major milestone this year as it marked 15 years since first opening in 2005, no mean feat in the cutthroat world of hospitality. This major win has given the management team the morale boost it needed as due to the pandemic, the 15th anniversary celebrations had to be put on hold.
At the start of 2020, FIRE underwent a refurbishment. Management spent over one million euro on a fresh fit-out, a sleek new look, plush interiors and the rejuvenation of menus and the outdoor terrace. FIRE Steakhouse was due to celebrate this new facelift with a grand unveiling, but with restrictions, plans were hampered.
The Lord Mayor of Dublin Hazel Chu who currently lives in the adjoining Mansion House expressed her delight at FIRE's recent win saying; "Congratulations to Richie Wilson and the team at Fire Restaurant on winning the award of 'Best Global Steakhouse 2020'. Fire is located in the historic Supper Room of the Mansion House and I look forward to toasting the team's success in person soon."
FIRE & SOLE Restaurant re-opening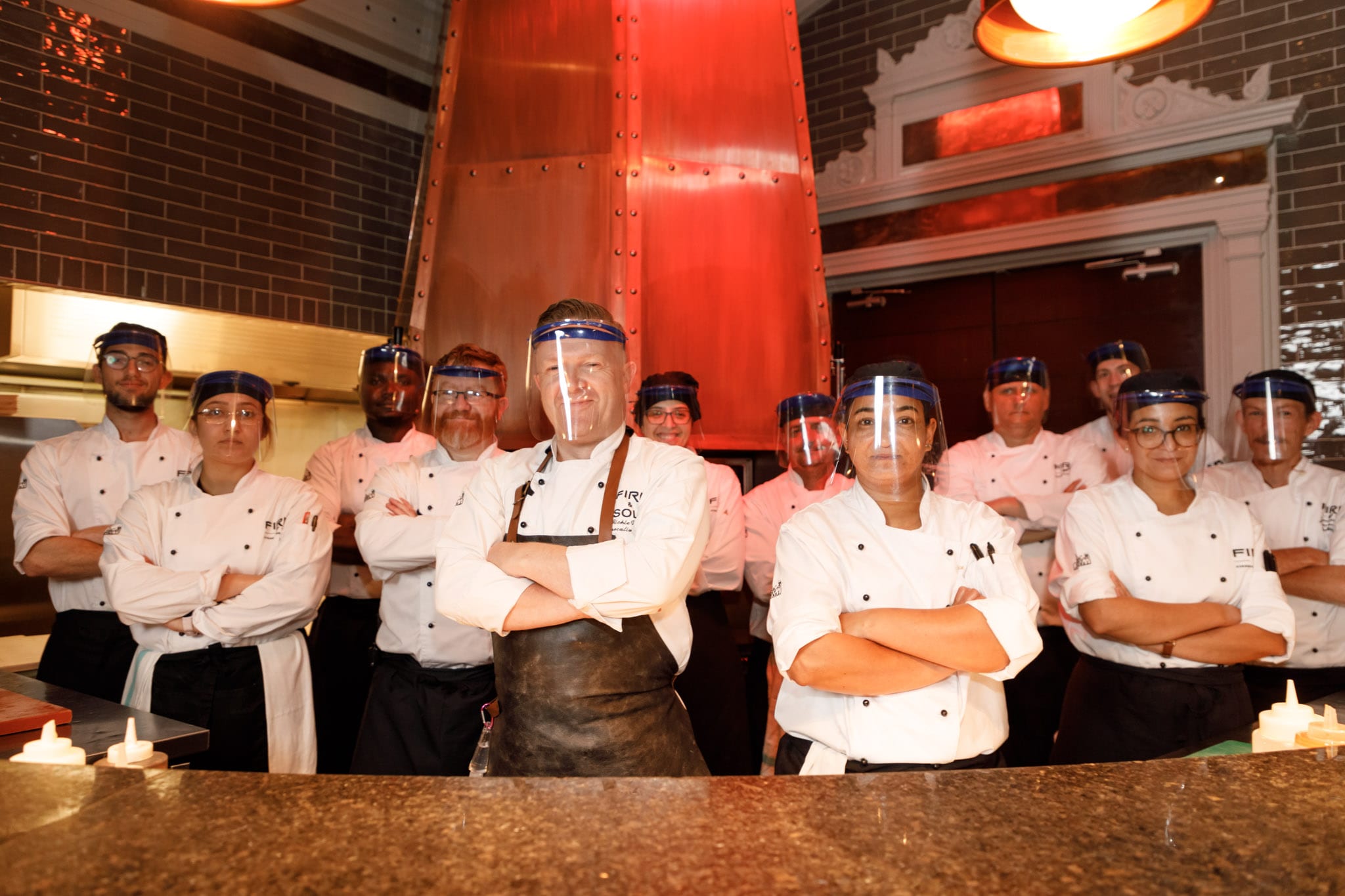 The restaurants remain in the dark to whether restaurant service will be permitted when the current lockdown ends on December 1st
Indoor Restaurant dining in Dublin has been completely closed for 27 weeks, with trading restrictions in place for an additional 12 weeks of 2020.
The award-winning team behind FIRE and SOLE and the amazing Irish restaurant industry, fully acknowledge the challenge presented to government and society in managing and defeating Covid-19.
Restaurants have a proven track record in delivering a "controlled environment".
The original Resilience and Recovery Plan for Living with Covid-19 launched on September 15th, 2020, allowed for In-door dining with additional restrictions in Level 3.
We call on the government to engage with Restaurant professionals to agree additional restrictions (restaurants have many workable and safe solutions) for opening Restaurant Indoor Dining from December 1st as a controlled and safe environment for living with Covid- 19.
About the Luxury Restaurant Awards
Established in 2015, the World Luxury Restaurant Awards are considered the most prestigious in the luxury restaurant industry, offering international recognition to winners. This year, there were entries from 61 different countries worldwide and 365 restaurants in total entered. The restaurants are shortlisted on a voting basis with guests, travellers and industry players casting over 100,000 votes over a four-week period to select the winners.
This year the focus was on those that showed true determination during a year never experienced in the hospitality industry before.
World Luxury Awards Marketing Director Michael Hunter-Smith says; "We congratulate this year's winners. It speaks volumes to your dedication and commitment to our industry in this challenging year. True luxury is not easily attained. It takes highly efficient and dedicated staff, who are willing to go the extra mile and stop at nothing to ensure that every guest feels cared for and no challenge goes unresolved. This is the definition of luxury; it is what makes the winners shine."
The awards are considered highly prestigious within the international hospitality industry. ESCA restaurant in Cairo won "Global Luxury Restaurant of the Year 2020".
This year's award ceremony was due to take place in Bali but due to the ongoing Covid-19 pandemic was held virtually for 2020.