FIRE Celebrates 15 Years of Business with New Look and New Offering for Summer Opening
After undergoing a €1.1M stylish refurbishment, FIRE Steakhouse & Bar on Dawson Street is set to open its doors for socially distant dining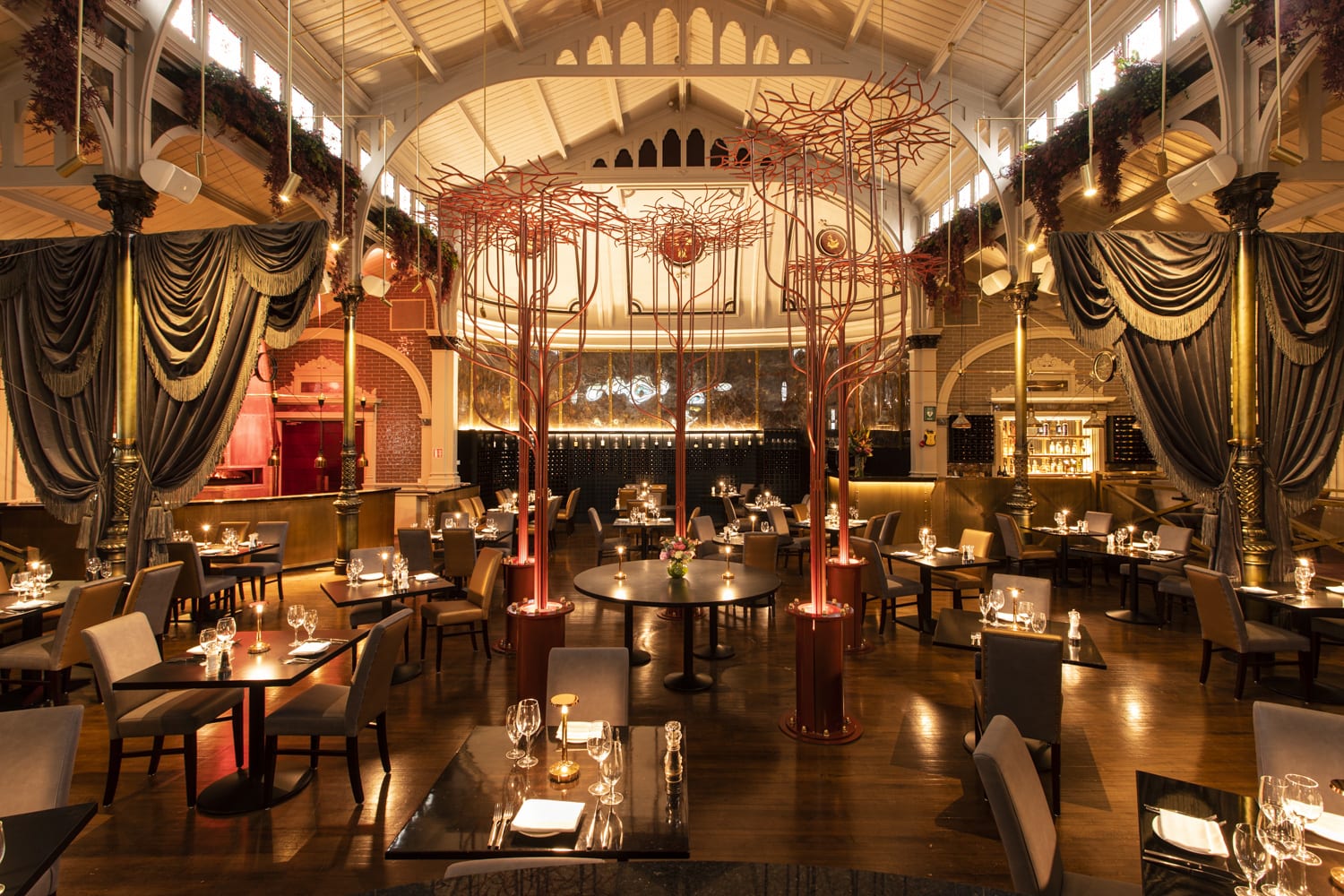 2nd June 2020: FIRE Steakhouse & Bar is preparing to reopen this June and is ready to set the standard for socially distant dining. Although lockdown has impacted the hospitality industry, the iconic Dublin eatery has used the time to prepare its "welcome back protocols", which ensure the safety of staff and patrons is a priority. The €1.1M refurbishment, which was completed in March, showcases a new look for the restaurant and the refreshed offering includes a new menu and extended wine list.
FIRE Steakhouse & Bar includes Dublin's most historical dining room, originally built in 1864 for the Lord Mayor of Dublin and offers the ultimate casual dining experience in the most unique and spacious setting. Respected Irish interior designer and artist, Graham Barrow, led the aesthetic direction of the quirky redesign, with signature touches to the venue such as twelve-foot iron, copper trees, which were originally featured at the prestigious Chelsea Flower Show. These remarkable works of art act as the pièce de résistance in the new-look restaurant.
The FIRE Steakhouse & Bar menu has been revamped by Executive Head Chef, Richie Wilson. Wilson has been working as a chef for nearly 30 years and is passionate about Irish produce. With new starter dishes such as Scallop Ceviche (€13.00), Quinoa Salad with Orange and Lime dressing (€12.00), and Roast Bone Marrow (€13.00), diners can enjoy an abundance of flavours at FIRE Steakhouse & Bar.
Main course options include succulent Slow Cooked Pork Neck Fillet (€29.50), a flavoursome vegetarian Fettuccini made with chilli, roast cauliflower and black garlic (€21.50), and the most delicious premium steaks. Dry ageing of Irish Hereford Prime Beef takes place on-site and new cuts include a 16oz T-bone steak (€59.50) and "World Steak Gold Medal" winning rib-eye is a must-try at (€49.50). The classic FIRE steak cuts will still be available including their prime centre cut 8oz Sirloin Steak (€29.50) which is also available on their Early Bird menu. The new options cement FIRE Steakhouse & Bar as the go-to dining experience for steak enthusiasts. Dessert lovers can enjoy a mouth-watering White Chocolate and Raspberry Cheesecake or a wonderfully innovative gin-infused Gunpowder Mess which features lime mascarpone mousse, juniper meringue and Gunpowder Gin and Tonic lemon jelly!
Speaking about the new menu Executive Chef, Richie Wilson, said; "The new refurbishment does not just offer customers a new look FIRE but the additional upgrade to our kitchens has offered us the opportunity to extend our menu offering. Our new Basque grill means we have been able to increase the number of steaks on offer by 80%, it's great to now be able to offer guests our delicious classic FIRE prime cuts of beef as well as offer new cuts with their own unique taste. We have a lot of new seafood and vegetarian options too, so there is something for all food lovers to enjoy. We believe we have the best food in the world on our doorstep, so we're using Irish suppliers, where possible, for the new menu and the whole FIRE team are really excited to welcome regulars and new customers to the restaurant this summer to experience FIRE".
Wine aficionados can also look forward to enjoying the new "wine wall" at FIRE Steakhouse & Bar, which displays hundreds of wines from across the globe. The wine offering has significantly increased, from 63 to 123 wines on offer. The extended list includes more organic, biodynamic, and vegan-friendly wines. Critically acclaimed wines of note include a 2010 Chateau Léoville-Poyferré, St Julien, Bordeaux France, and the 2008 Cristal, Louis Roederer. The Elio Altare- "Unoperuno"-2015 is the star of the wine list, this wine is the result of a meticulous destemming process in which the grapes are removed manually one by one from the stems, a delicacy for wine lovers.
Speaking about the reopening of FIRE Steakhouse & Bar General Manager, Nicole Jordan, said; "I have been working with FIRE Steakhouse & Bar for the last 7 years and I have never been more excited. Working on the €1.1M refurbishment with Graham was fantastic, we set out to enhance the already stellar casual dining experience at FIRE, and we have achieved that. We are excited to welcome our loyal customers back to FIRE Steakhouse & Bar to show them the fruit of our labours and how we have put their safety first. We encourage our customers to take the time to make memories this summer by offering them a dining experience to remember when they visit FIRE Steakhouse & Bar."
Covid-19
Since the lockdown, FIRE Steakhouse & Bar has been working on "welcome back protocols". The protocols include implementing a booking system that allows for strict control of capacity to stagger customer flow and ensure both staff and customer safety at all times. FIRE Steakhouse & Bar has reduced the number of tables by 40% to offer guests a comfortable distance dining experience. Customers can find out more information about safety practices and "welcome back protocols" at www.FIREsteakhouse.ie.
For more information or to make a booking at the newly refurbished FIRE Steakhouse & Bar visit www.FIREsteakhouse.ie or follow @firesteakhouse on Instagram.
Opening times:
Open late 7 nights a week:
Monday – Friday 5 pm
Saturday 3 pm
Sunday 1 pm (Jazz lunch from 2 pm- 5 pm every Sunday)
To make a booking:
Or contact a member of the FIRE team:
T: +353 (0)1 6767 200