Meet Our Head Chef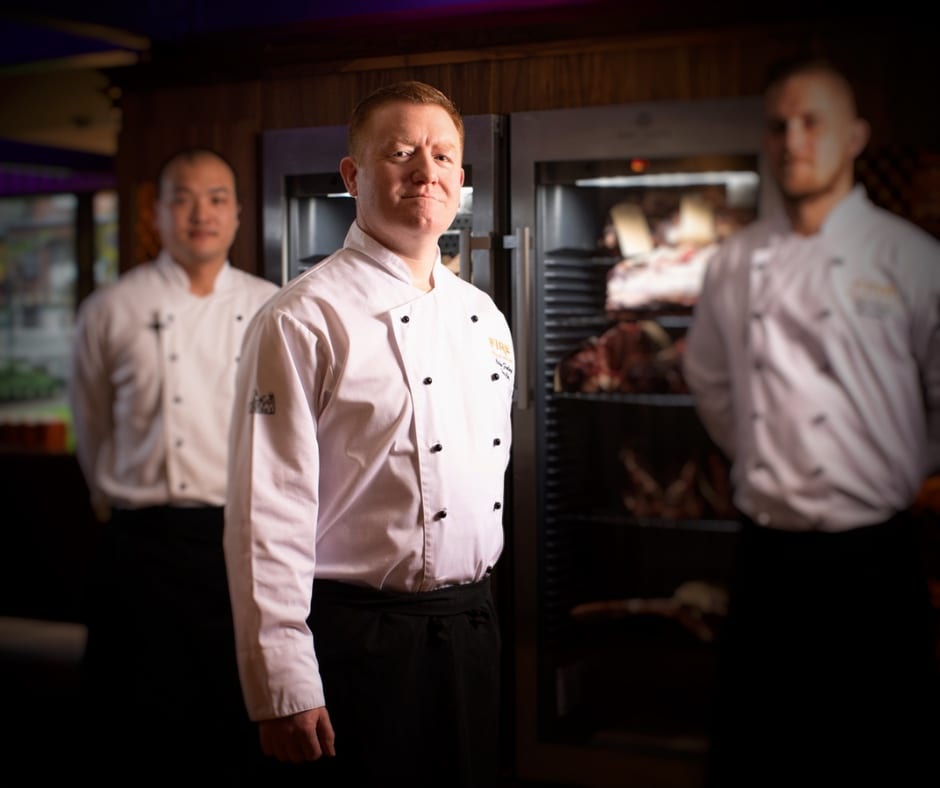 Ciaran Furlong, the Head Chef at Fire Restaurant, joined the Fado Restaurant team 19 years ago before it became FIRE Restaurant & Lounge.
After graduating from DIT Cathal Brugha Street, he's been in the Hospitality Industry for the past 29 years. Ciaran began his career in Fitzpatrick's Killiney Castle Hotel training under Executive Chef Sean Dempsey for several years.
He has also worked at Courtyard Restaurant Donnybrook and Fado Restaurant working under Anthony Duggan (Druids Glen Hotel) amongst our fine properties.
---
SO LET'S GET TO KNOW HIM…
How long have you've been in the Food Industry?
I've been in the industry since late 80s early 90s, so heading rapidly towards 30 years.
What does a typical day look like for you?
My day usually starts with checking bookings on my way into work looking for any specials needed for that day. On arrival, I would check that our food deliveries are correct and up to our high standards. Following this, I would contact suppliers about weekly and daily orders for upcoming events. I would then brief senior chefs and chef de parties about what's required for day's service and then into service for the night which can be 5-6 hours on your feet on a busy day. After service, it's the big clean down and then we order fresh produce for the following day.
Who's your dream dinner party guest? 
I'm a big sports fan but I couldn't just pick one!! So, it would have to be Jim Gavin and Joe Schmidt, they would be my ideal guests. I would love to pick their brains about team selection and tactics.
What's most rewarding about working in FIRE?
Working in FIRE has many rewards but the most rewarding is the great teamwork and camaraderie that we have in the FIRE kitchen, everyone plays their part in helping us produce some of the best food in Dublin.
Do you have an all-time favourite dish?
I don't have one all-time favourite dish, but if you twisted my arm it would probably have to be Tournedos Rossini with foie gras and truffle shavings, but a Grilled Dover Sole on the bone and lemon butter is a close second.
Why did you decide to become a chef? 
I probably decided in my mid-teens, becoming a chef was what I wanted to do, cooking was a way of expressing my artistic and creative passion for food.
What are 5 kitchen ingredients you can't live without? 
My top 5 ingredients would have to be:
Thyme – most versatile herb in a kitchen
Garlic – the humble clove can't be beaten for flavour
Black peppercorns – I would use on most dishes in my kitchen
Maldon Sea salt flakes – the best salt for steaks and fish
 And good quality Irish butter – 'put a bit of butter on the spuds Andre' will always do the job.
What's the secret to cooking the perfect dish?
The secret to a perfect dish is time and top-quality ingredients. It's not just about cooking the food it's also about developing the dish. It takes a lot of time to come up with an idea and a big a team collaboration to get a dish just right. 
When are you happiest at work?
I'm happiest at work just after the last meal has gone out on a perfect nights food service, that's the adrenaline buzz that keeps you going.
What has been your highlight over the last 15 years working at FIRE?
It's hard to pick just one highlight. Welcoming Archbishop Desmond Tutu was certainly a highlight for me. Also, this year we celebrated the 100th anniversary of Dáil Éireann at the Round Room, which was great. 
We hope you will join us at FIRE in the coming weeks to celebrate the past 14 years of FIRE.
---
+353 (0)1 6767 200
Walk-ins are also welcome.