SUMMER BBQS

Fire Restaurant- The Ultimate Summer BBQ Venue in Dublin
The setting for your sumptuous Summer BBQ will be the unbeatable surrounds of Fire's outdoor terrace, located adjacent to Dublin's Mansion House in the heart of the city.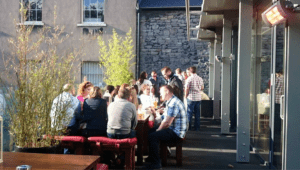 Whether you are looking to have a get together with friends, mark an occasion or celebration or impress some clients, Fire Restaurant and Lounge offers a stunning location for a Summer BBQ. We offer guests the perfect combination of fun, al fresco food on our sun-soaked terrace as well as the best cocktails in town from Fire Lounge!
Enjoy a pre or post BBQ cocktail choose from a range of cocktails including Champagne Mojitos, Fashioned by Fire and Monks Milkshake. If you are having trouble deciding which cocktail to choose, our inhouse mixologists will be delighted to make recommendations based on your taste preferences if you wish!
There is no better way to enjoy the long summer evenings than at Fire where you will immediately feel welcomed by our team of friendly professionals who are passionate about what they do. Quickly discover why Fire Restaurant Dublin is consistently voted as one of Ireland's top Summer BBQ destinations.
For further details on our packages or to check availability please contact us at fire@mansionhouse.ie  or on 01 6767200 & we would be delighted speak with you.