FIRE's Irish Hereford Prime Beef Boards for Sharing

Irish Hereford Prime Beef has gained worldwide recognition as one of the most succulent, tender steaks available on the global market. Every cut of beef comes from cattle reared primarily on a grass-based diet. Not only do Irish Hereford Prime steaks taste superior, they are low in saturated fat, high in vitamins and minerals, and always ultra tender.
A key characteristic of Irish Hereford Prime beef is the fine grain marbling throughout, which ensures a consistently superior taste and tenderness that is difficult to match. We are proud to serve only Irish Hereford beef in our steakhouse here at FIRE!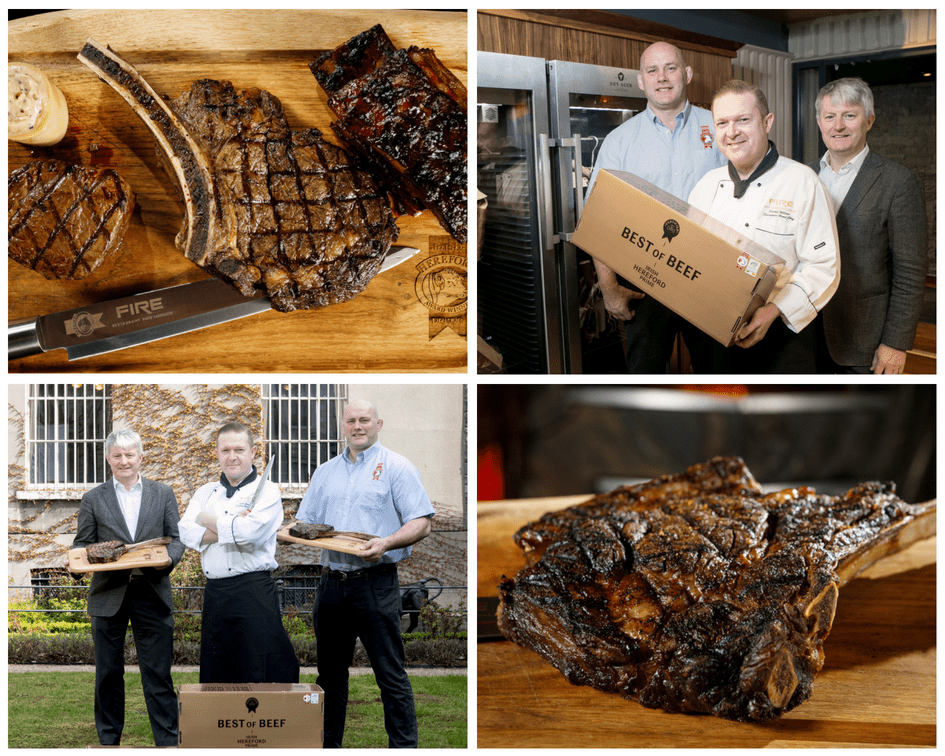 And what better way to taste this delicious beef other than sharing? We have created two amazing beef boards that are perfect to share: one with the impressive Tomahawk cut and the other with 3 incredibly delicious cuts: Bone-in Rib Eye, short rib and Centre Fillet.
Tomahawk Hereford Prime on the bone Rib Steak
35 Day In-House Dry Aged Tomahawk – 42oz / 1.2kg  
A Tomahawk is a full rib joint on a full rib bone. Keeping the full rib bone, or at least a longer bone, allows us to keep a little more of the outer cap of the rib attached to the joint, during the dry ageing process far more flavour develops here than inside the joint itself and so we want that flavour to make it to the table along with the primal cut. To really appreciate and understand the full effect of this fabulous cut of beef you need to take a hold of this full rib by the bone in one hand and carve it yourself at your table with the knife we have had specifically designed to do the job. It's an impressive and delicious cut that ensures the perfect steak dinner experience.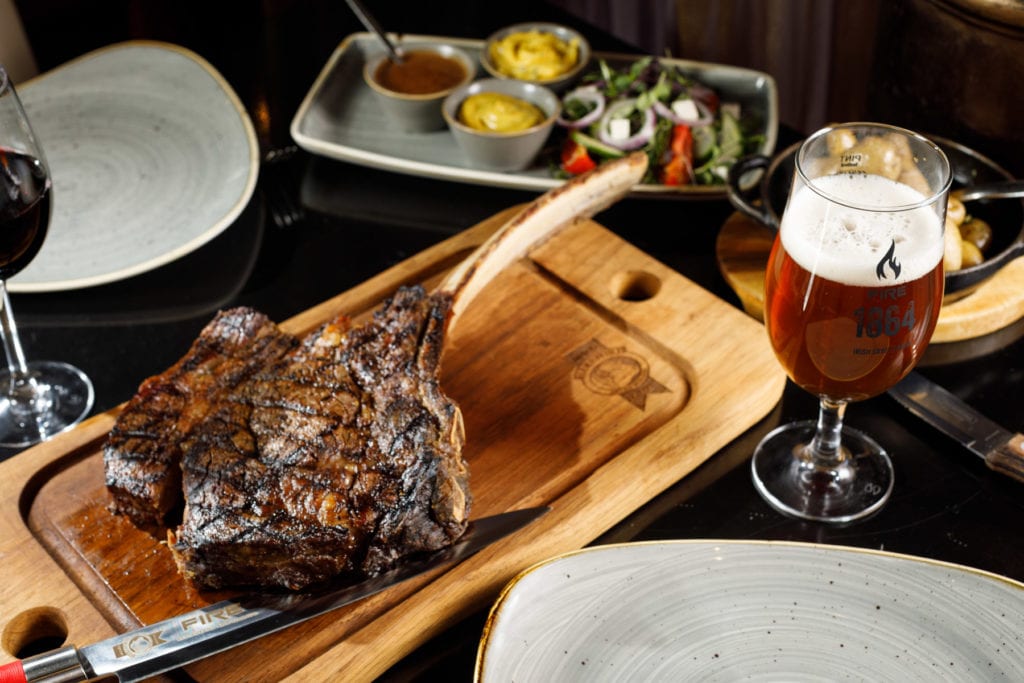 ________
FIRE's Three Cuts Beef Board
15oz / 430g Bone-in Rib Eye, 36 hours braised short rib, 8oz, 227g Dry Aged In-House Centre Cut Fillet. 
Each one of the 3 different cuts on our sharing board complimenting each other with its own unique flavour and texture. The Bone-In Rib Eye weighs in at over 400g, The combination of an intense marbling and leaving the bone on this steak on the Bone-In Rib Eye enhances the full flavours of this beautiful cut of beef. The 8oz Dry Aged Fillet is aged to perfection over 14 days in our house dry ager. Proses which is seldom done in a restaurant due to the weight loss in the beef, in FIRE we are delighted with the results. After just 14 days over the salt blocks, the fillet has become increasingly tender and the moisture loss has resulted in a greater concentration of beef flavour and taste. The 36 Hour Braised Short Rib based in gravy is slow cooked to a melting point. Pure melt in your mouth, this cut of beef was made for braising. Still clinging to the bone after cooking it is then glazed in the reduced cooking liquor to further enhance the flavour.
Our 3 cuts beef board is a perfect way to experience this different styles of beef! The rib has those big masculine flavours coming from its's marbling, the fillet steak the most tender of all the beef steaks with added intensity threw dry ageing along with the rich, flaking short rib.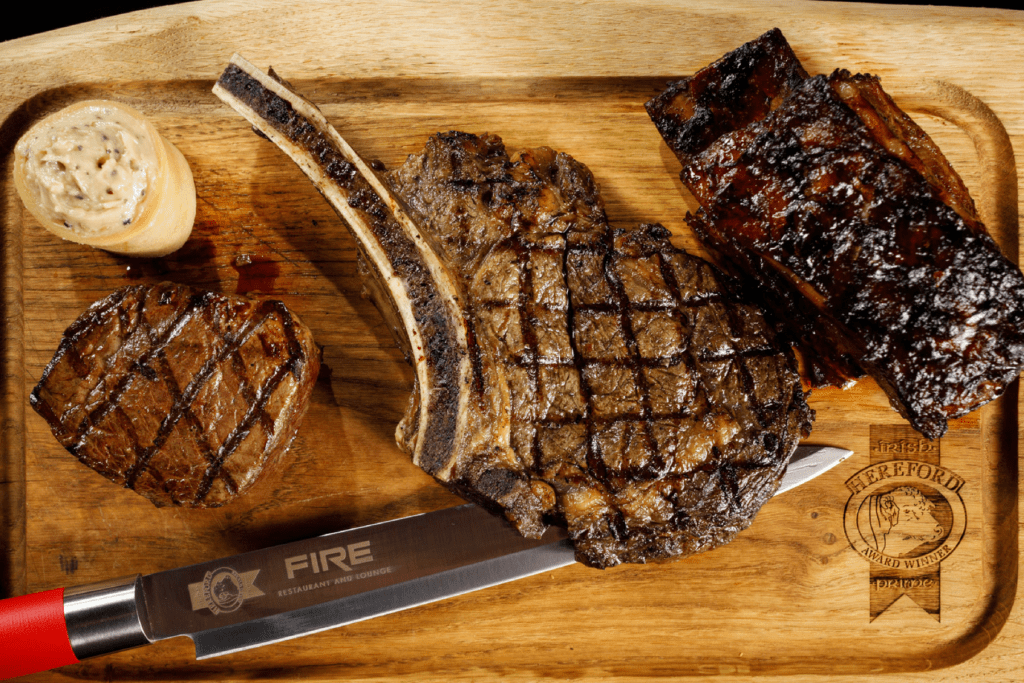 All our FIRE's Irish Hereford Prime Beef Sharing Boards are served with Greek Salad, ratte potatoes, Peppercorn Brandy Cream, Dijon & Béarnaise.
Complete an outstanding steak dinner at FIRE Restaurant and Lounge with our own FIRE 1864 Irish Craft Lager or with our amazing cocktails.
View our complete a la carte menu.
---
To book a table – Click HERE.
T: + 353 (0) 1 676 7200