Valentine's at FIRE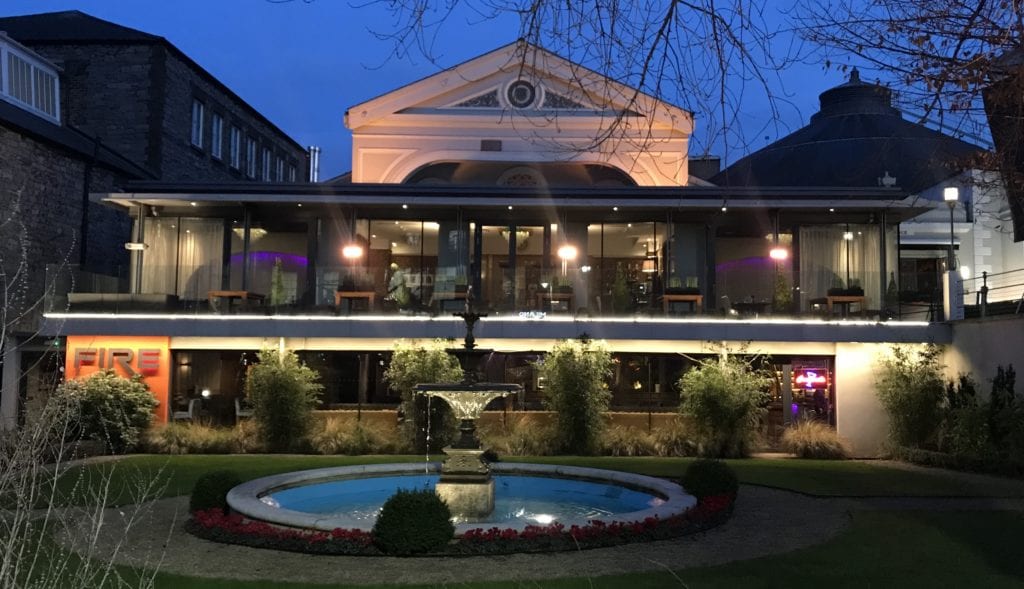 Set your heart on FIRE this Valentine's Day.
Make Valentine's Day one to remember with a truly exceptional dining experience in one of Dublin's most prestigious and historical address.
Enjoy our Valentine's special 4-course menu for €54.50 per person.
Available Thursday 14th February – Sunday 17th February.


Starters
 Watercress Soup (V)
A light puree of leek, potato & baby watercress. Rocket pesto & sorrel cress
Fire's Duo Fish Cakes
Naturally smoked haddock & fresh codfish cakes served with chilli and coriander jam, and pea shoots
Wood-Fired Tiger Prawns (Supplement €5)
Chorizo & crayfish stuffed, roast in garlic butter and olive oil, FIRE's soda bread.
Duck Salad
Silver Hill confit, crisp skin, pomegranate seeds, mango, raspberry dressing, micro mesclun.
Ardsallagh Goats Cheese (V)
Woodfire baked pistachio & pecan crust, focaccia crouton. Pickled beets, chestnut honey.

  Main Courses
          10oz Irish Hereford Prime Aged Rib Steak (Supplement €10)
Chargrilled, tobacco onions, Pont Neuf chips, micro cress salad, brandy & pepper cream sauce.
 8oz Irish Hereford Prime Aged Sirloin Steak
 Tobacco onions, Pont Neuf chips, micro cress salad, brandy pepper &cream sauce
Lamb Rump
Aged Irish lamb rump cooked medium, shallot puree, potato gratin, honey roast roots, rich meat jus
Irish Chicken Supreme
Roast Chicken, summer vegetable nage. Watercress mash parmesan tuille.
Sea Bass Fillet
Sumac spiced, roast baby potatoes, chargrilled asparagus. Orange beurre blanc, salmon keta.
Tortellini
Spinach & Ricotta, Jerusalem artichoke, rainbow cauliflower, Cauliflower Puree

Desserts
 Ispahan
Rose petals, raspberries, rose macaroons and Lychee cream
Chocolate & Caramel Cube
Genoise sponge, rich chocolate mousse, Amarena cherries, butterscotch sauce
Iced Praline Parfait
Gingerbread biscuit, cherry gel, crushed caramel, chocolate sauce
Zesty Lemon Tart (GF)
A coconut baked base topped with zesty lemon cream, caramelised, and served with Glenisk clotted cream and raspberry sorbet
White Chocolate and Raspberry Cheesecake
A light cheesecake with white chocolate and raspberries on a buttered Graham Cracker base

Tea & Coffee
A special sharing menu will also be available in the evening.