Meet our Restaurant Manager
Jibin Thomas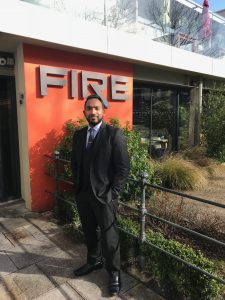 We'd like to wish Jibin the very best in his exciting new role as Restuarant Manager of FIRE Restaurant and Lounge!
---
So let's get to know him…
Can you give us a  brief summary of your career in the hospitality industry to date?
I have been in the industry for just over 5 years, with experience in almost every department.
What does a typical day at FIRE look like for you?
That's a tricky one. Every day is different in the sense that there are different types of people, different personalities, different occasions, different requests etc. We also get a lot of returning guests and my job is to ensure both guests and the team leave the restaurant with a memorable experience at the end of the day.
What are you most looking forward to in your new position?
I love making and building relationships with guests. You need to have a passion for dealing and connecting with people when you are in this industry. Also working closely with the great team we have here at FIRE Restaurant and Lounge at the Mansion House is another thing that I'm looking forward to.
What do you find most challenging in your role?
Each role has its challenges. I'd say one of the main challenges is staff retention and staff turnover. Also, the industry is highly unpredictable which makes it really challenging, but that's also what I enjoy.
What do you find most rewarding?
At the end of the day, it's about making our guests happy. Working with the team to ensure every guest that leaves FIRE is leaving with a memorable experience is what makes my role really rewarding.
What's your favourite FIRE dish?
Our 10oz Irish Hereford Prime Rib-Eye Steak, cooked Medium Rare with Wood Fired Tiger Prawns…delicious!
Do you have any funny facepalm moments you'd like to share with us?!
There was this time about 12 years ago when I was in a restaurant and I ordered chargrilled prawns. I didn't know how to eat it so I ate the whole thing including the shells… to be honest, it took me a while to finish with all the chewing! It was like Mr. Bean in "Mr. Bean's Holiday."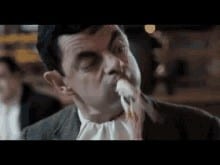 Who inspires you?
My main inspiration is my parents. They believe in hard work and honesty and are always positive. They have always taught me that with of all of these anyone can be successful.
Is there a motto or personal mantra you live your life by?
This is a tough one. I'd say "if you want to go fast, go alone. If you want to go far, go together."
---
To make a booking at FIRE Restaurant and Lounge: 
Click HERE.
T: + 353 (0) 1 676 7200