Mario Rosenstock Live- The Christmas Show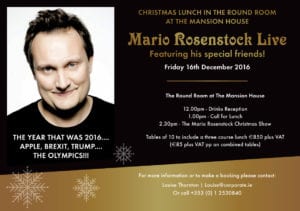 Enjoy an afternoon of award winning food and drink in the Round Room at the awards dinner venue Mansion House followed by 'The funniest Man of the Year' (Joe.ie) this Christmas. The perfect way to get in the festive spirit with friends and family this December at the CEV!
12pm: Drinks Reception
1pm: 3 course Lunch
2.30pm: The Mario Rosenstock Christmas Show
3.15pm: That's a wrap!
Mario Rosenstock Live will feature all new sketches with brand new characters, plus your 'Gift Grub' favourites – with the year that was 2016 Apple, Brexit, Euros, Trump, The Olympics… it can only end in tears of absolute joy!
Tickets are priced €85 plus VAT per person for combined tables including a drinks reception, 3 course lunch and the main man himself!
For further information please contact Louise Thornton:
T: +353 (0) 12530840
E: Louise@corporate.ie