Welcome Back Protocol
As part of our Welcome Back Protocol, The FIRE Team have unveiled a suite of unobtrusive measures to help protect customers and colleagues as part of a collective global goal to defeat Covid-19…….
We have reduced our table lay-out and customers seating by 40% and a minimum of 1-meter distance, to ensure a more comfortable dining experience for you while offering safe distance dining between other guests.
At FIRE we take great pride in our existing cleaning, safety and hygiene standards, we, however, recognise that customer confidence and trust in our hospitality experiences are more important now than ever, we have re-visited all our procedures and have added a number of new and important protocols:
FIRE will engage dedicated and highly trained staff to constantly clean surfaces and touchpoints with increased frequency and will have a dedicated cleaning team on duty daily.
Hand hygiene remains extremely important. Safe and easy-to-use hand sanitiser stations will be located on arrival and throughout the restaurant for your convenience.
Upon arrival at your table, a hot disposable sanitising hand towel will be presented as part of your FIRE hospitality experience.
At all times, a lead team representative will be on duty to make sure protocols are strictly adhered to at both the front and back of the house to ensure the safety and wellbeing of colleagues and guests.
All staff will be wearing facemasks and we kindly remind all guests that government regulations do also require all guests to wear masks on entry to the restaurant and while moving around. Masks can be removed while you are seated at your table.
Additional Covid-19 measures that FIRE is introducing as part of our Welcome Back Protocols:
As FIRE is a spacious building over two floors this allows us to offer a separate entrance and exit for all customers during busy times to help keep a safe distance between you and other guests.
In line with current government guidelines, table sizes will be restricted to parties of 6 guests.
Dedicated experienced hosts will be available to manage guest flows on arrival and departure.
To play our collective part in defeating Covid-19, one guest from all parties, including walk-in's, will be required to provide a contact number and email address.
Cash-free methods of payments including Revolut and Apple pay are available and encouraged
In consultation with our amazing team of hospitality professionals, we have introduced the following new measures for our team;
Daily Temperature and Health checks.
Separate Staff entry and exit point.
A new staff bicycle parking area.
Staggered start and finish times to avoid high traffic within staff changing areas
All staff will be wearing protective face shields.
Our staff canteen and break area will be re-located within the Mansion House conference space to allow comfortable social distancing between colleagues.
New Kitchen traffic flows and procedures to protect our team and guests.
Ongoing internal and external training on new and updated policies and protocols
Flexible rosters where possible to support team members with children at home during schools and childcare closures
FIRE Steakhouse & Bar is committed to providing the safest environment possible, whilst maintaining your hospitality experience at the forefront of everything we do. We're looking forward to welcoming you to FIRE and with all these changes, one thing that will never change – our friendly professional hospitality and that FIRE taste.
Strategically staggered reservations are now opened on-line for bookings by email, FIRE@mansionhouse.ie or by phone 01 676 7200.
*Please note the above is subject to change.
COVID-19 SAFETY CHARTER
The COVID-19 Safety Charter is an initiative endorsed by the Irish Government to reinforce confidence in domestic and overseas visitors in tourism businesses.
Receiving this Charter means that at FIRE Steakhouse & Bar, every employee has completed appropriate COVID-19 hygiene and safety control training. We have also appointed a COVID-19 Lead Worker Representative, who completed the extensive Fáilte Ireland COVID-19 Safety & Hygiene Control Training.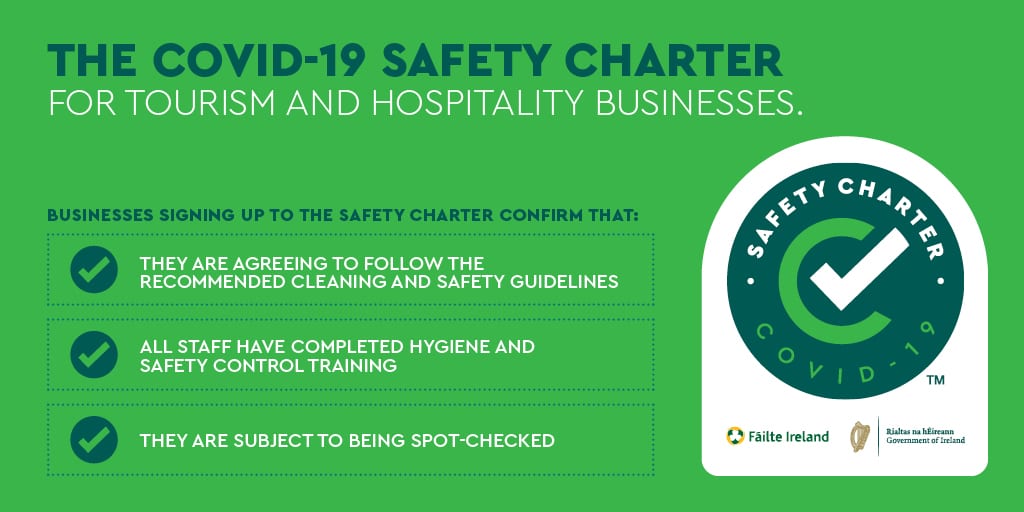 TRANSPORT
We are conscious that people need a safe way to come to the city centre and have teamed up with ProBus & Car Luxury Touring to get you to and from the restaurant safely and in style.
This service is a door to door fleet of 5 series BMW'S and Model S Tesla.
All vehicles are deep cleaned and Sanitised before they leave their Depot as well as being sanitised after each journey.
All Drivers will be wearing face masks and professional uniforms, and have each undergone specific COVID19 training to ensure your safety.
A safety pack with sanitisation wipes and a mask will be provided for you for your trip.
ProBus & Car Luxury Touring are fully Failte Ireland COVID Compliant.
Booking at least 12 hours before your journey is advised and can be done by calling them on + 353 (0)1 9011350.
All the fares are set fares and are based on Kilometre basis