Pinot Noir at FIRE
Celebrate International Pinot Noir Day at FIRE!
Pinot Noir is one of the most popular light-bodied red wines. It's loved for its red fruit, floral and spicy aromas with a long, smooth finish. We're raising our glasses and celebrating pinot noir next week with a fantastic Pinot Noir pairing menu.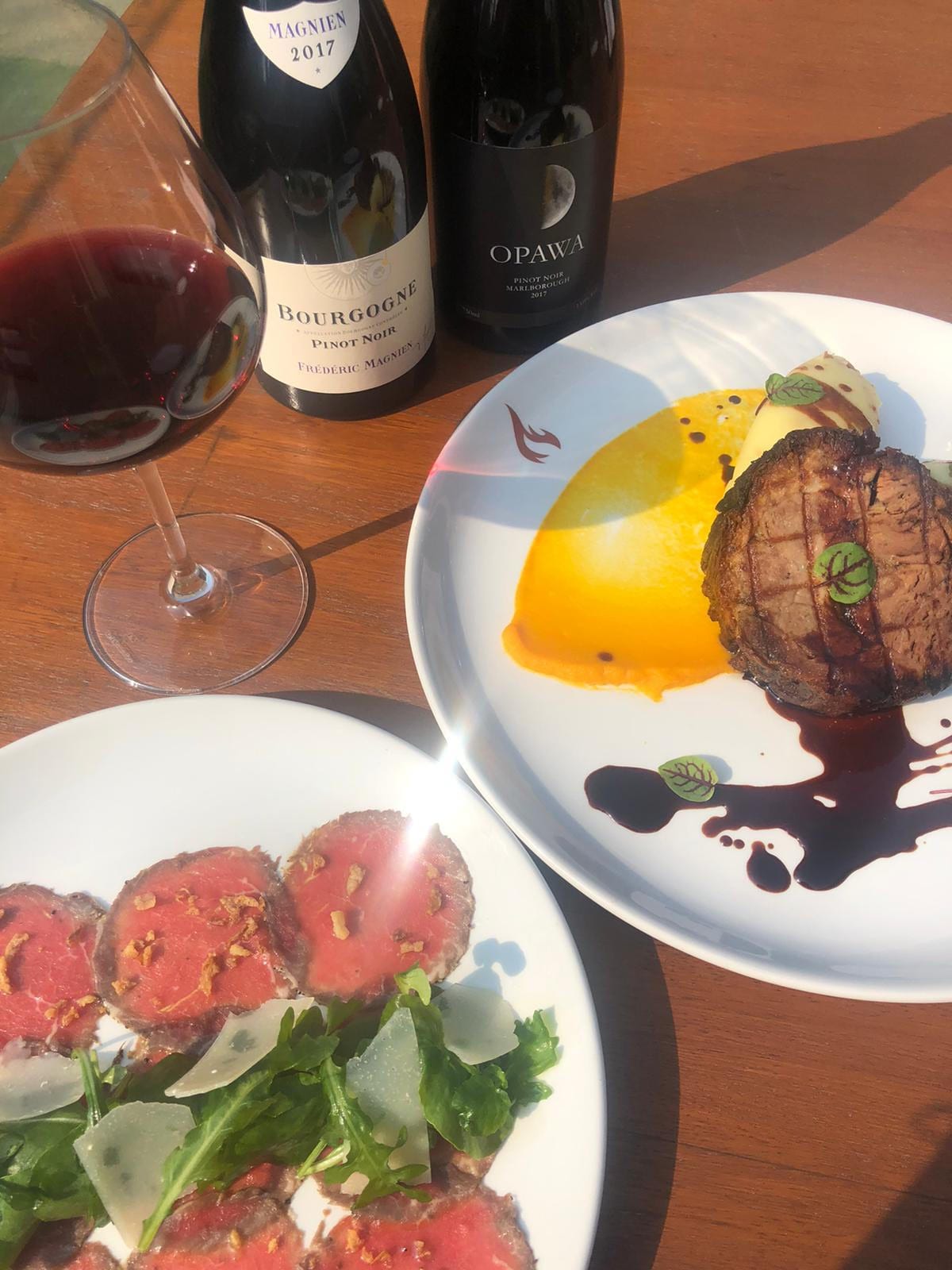 Available Monday 17th August – Sunday 23rd August.
Menu
 BEEF CARPACCIO
Irish Hereford Prime fillet, crisp shallots, parmesan, truffle oil
Bouchard Aîné et Fils, Pinot Noir, Vins De France, 2018
ARDSALLAGH GOATS CHEESE (V)
Goats cheese mousse, pickled beets, candied pecans, black olive powder.
Opawa Pinot Noir, Marlborough, New Zealand 2017
PORK
Slow-cooked pork neck fillet, crisp shallot mash, squash puree, cinnamon jus
or
POLENTA (V)
Creamed truffle polenta, forest mushrooms, sugar snap, parsley puree.
Bourgogne Pinot Noir, Domaine Frederic Magnien, Burgundy, France 2017
CHOCOLATE FRAMBOISE
Chocolate Genoise sponge soaked in raspberry syrup, chocolate mousse, rich chocolate glaze and baby macaroon, Glenisk clotted
Dalrymple Estate, Pipers River, Tasmania 2017
€90pp.
Pinot Noir tasting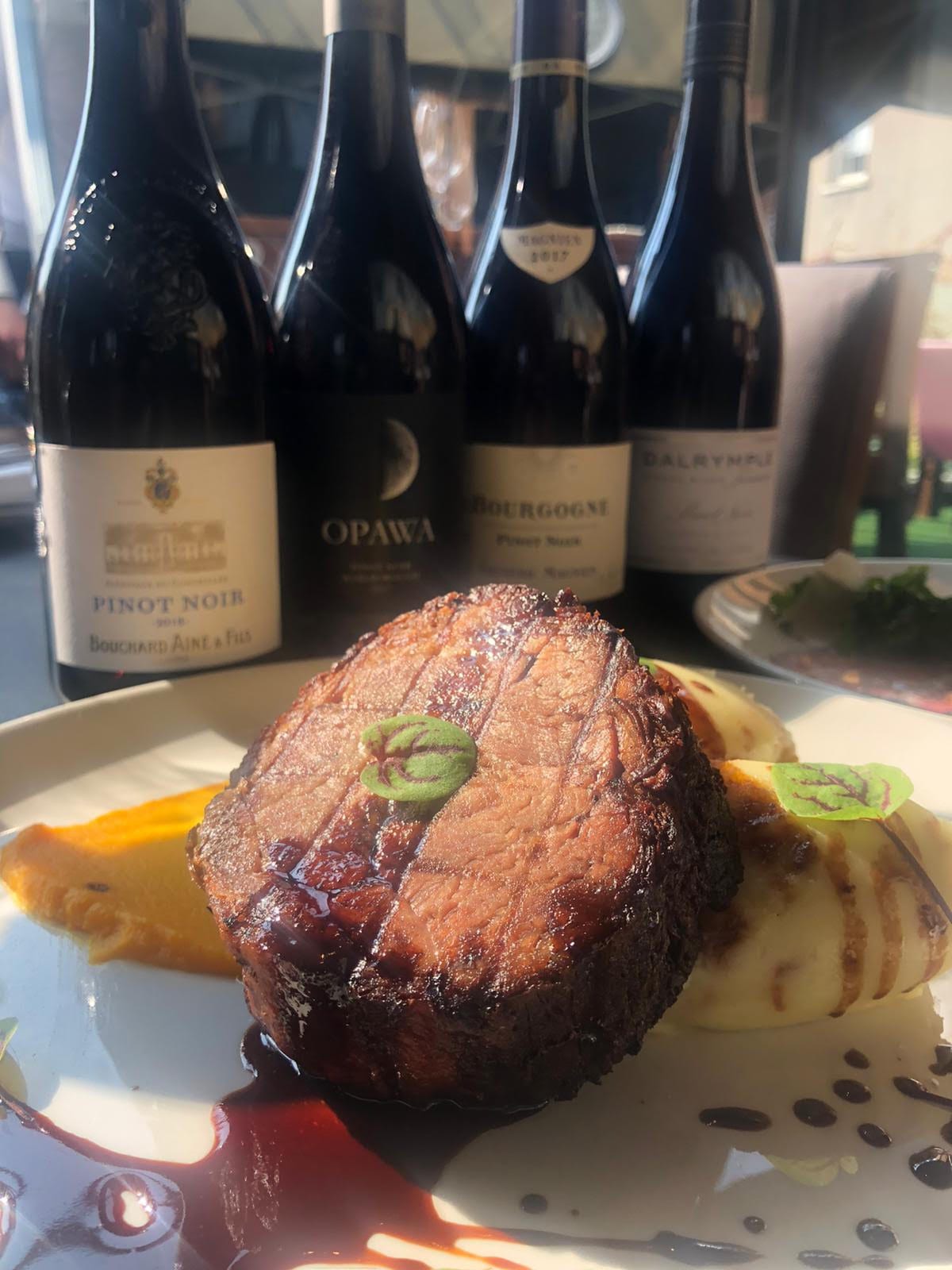 Dalrymple Pinot Noir, Tasmania
The star pinot noir on our wine list is Dalrymple. This is 100% Pinot Noir from the highly acclaimed Pipers River region of the Tamar Valley in northeast Tasmania. Dalrymple Vineyards was founded in 1987 by Bertel and Anne Sundstrup. After searching for the best site, the Sundstrups planted their vineyards on the sloping hills overlooking the Bass Strait, the stretch of water that separates Tasmania from the mainland. The 11-hectare estate was purchased by the Hill-Smith Family Vineyards in December 2007. The Hill-Smith family have been at the forefront of the Australian wine industry since 1849 when Samuel Smith established Yalumba wine.
This fine pinot noir wine has delicate aromas of ripe plum, red cherry and Christmas cake spice. On the palate, it features silky tannins, fine acidity and spiced fruit cake, matched with clove and ripe plum, with a long finish.
Our Pinot Noir tasting menu is available from Monday 17th August – 23rd August. Book now to join us for a celebration of this wine in Dublin's award-winning steakhouse.
---
Contact a member of the FIRE team:
T: +353 (0)1 6767 200
E: FIRE@mansionhouse.ie