Little Christmas at FIRE
Join us on Saturday, 6th January, and indulge in our special set menu for only €40 per person. On this day it is an Irish tradition for the women to get together and enjoy their own Christmas, while the men stay at home and handle all the chores!
Experience Prosecco in our Lounge on arrival followed by an award-winning 2-course meal, finished with a delicious cocktail for dessert! The perfect day to catch up with your girlfriends or family in the New Year.
Available from 3 pm – 6 pm, Saturday 6th January.
€40 per person.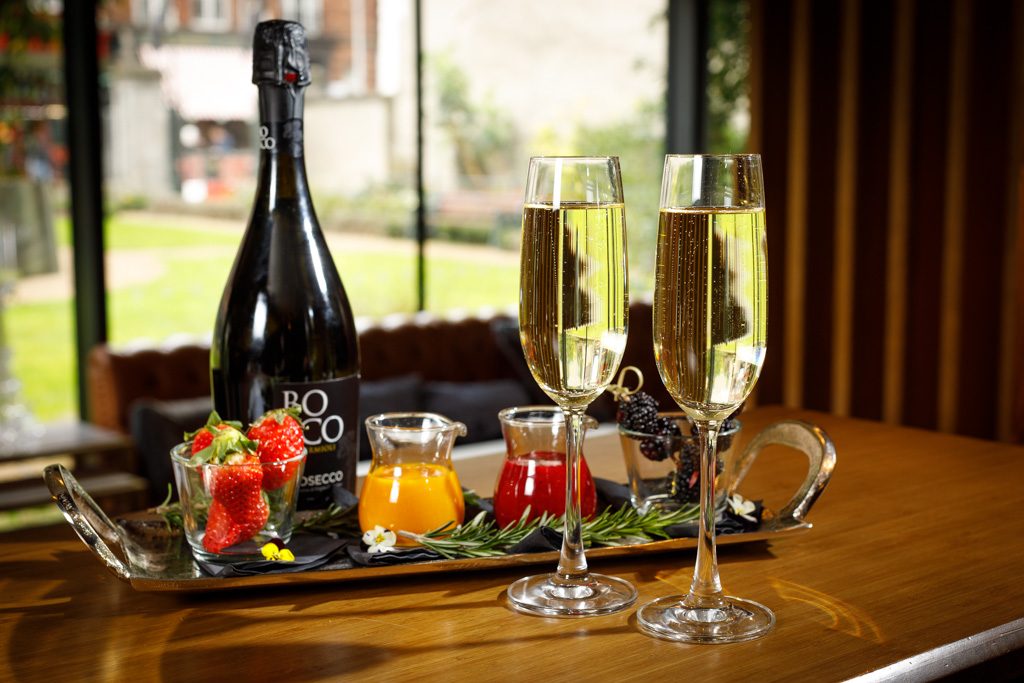 ---
Little Christmas Set Menu
€40 per person
---
Starters
Sweetcorn and Tomato Chowder (V)
Fire sweetcorn soup with confit tomato and chive
•
Fire Duo Fish Cakes
Naturally smoked haddock and fresh codfish cakes with a sweet chilli sauce
•
Wood-Fired Tiger Prawns (Supplement €5)
Sautéed Spanish chorizo & crayfish stuffing cooked with homemade garlic butter and olive oil, served with homemade brown soda bread
•
Char Grilled Irish Chicken Caesar Salad
Chargrilled Irish Chicken Fillet with crisp Cos Leaves, giant Croutons with oven roasted Pine Nuts, Parmesan and Fire's house Caesar dressing
•
Ardsallagh Goats Cheese
Wood Fire Baked Ardsallagh goats cheese, crusted with pistachio and pecan nuts on a Foccacia crouton
Pickled beets and chestnut honey
---
Main Courses
HAKE FILLET
Baked in créme fraiche and served on Boulanger potatoes with leek ragout, Palourd clams, and asparagus spears.
•
8oz IRISH HEREFORD PRIME AGED SIRLOIN STEAK
Irish Hereford Prime aged 8oz sirloin steak topped with tobacco onions, served with Pont Neuf chips, a micro cress salad and brandy pepper cream
sauce
•
IRISH CHICKEN SUPREME
Roast Chicken Supreme on a bed of champ. Portabello mushroom with baby spinach and herb crumb,
Pickled sweet chilli pepper stuffed with cream cheese and chive Served with basil cream
•
Pappardelle (V)
Fresh Egg Pappardelle Pasta, Young Stem Brocolli, Cauliflower Purée
Toasted Almond Flakes, Poached Hen Egg
---
Fire Signature Dishes
10oz Irish Hereford Prime Aged Rib Eye Steak (Supplement €10)
Chargrilled Irish Hereford Prime rib eye, delicately marbled with an eye of fat for full-bodied flavour. Served with chunky chips, tobacco onions, a mixed-leaf salad and a brandy & pepper cream sauce
•
Wood-Fired Tiger Prawns (Supplement €10)
Sautéed Spanish chorizo & crayfish stuffing cooked in homemade garlic butter and olive oil, served with homemade brown soda bread

---
Sides
Sides: €4.95
Sweet Potato Fries, Pont Neuf Chips, Skinny Fries
Sides: €5.95
Creamed Baby Spinach, Sinful Mash, Poached Eggs, Chestnut Mushroom Bourguignon, Cauliflower Gratin, Side Salad
To Share: €9.95
A selection of Seasonal, buttered, Vegetables 
 Green Asparagus with Poached Eggs
---
To make a booking this Little Christmas: