First Irish Restaurants Now China Ready
The first Irish restaurants, Dublin's FIRE Restaurant & Lounge and SOLE Seafood & Grill to complete Fáilte Ireland's Get China Ready programme have received their certificates from the national tourism development authority. The China Ready Programme is aimed at educating Irish tourism businesses about the opportunities available from the Chinese tourist market and is part of Fáilte Ireland's work to assist tourism businesses with market diversification and reduce the risks currently posed by Brexit. The Programme is an initiative of Fáilte Ireland in cooperation with Tourism Ireland and Tourism Northern Ireland.
Presenting the certificates, Paul Keeley, Director of Commercial Development at Fáilte Ireland said that Irish tourism businesses are beginning to see an increase in the number of Chinese visitors since direct flights from China started in June 2018. He emphasised:
"China is one of the fastest-growing outbound travel markets in the world with numbers predicted to grow to 200 million by 2020. Last year, an estimated 70,000 Chinese visitors travelled to Ireland but with the advent of the new direct flights from Beijing and Hong Kong that number is expected to substantially increase. The aim of the 'China Ready Programme' is to ensure that the Chinese visitor is warmly welcomed to Ireland and that tourism businesses are prepared and culturally aware of the requirements of our Chinese visitors."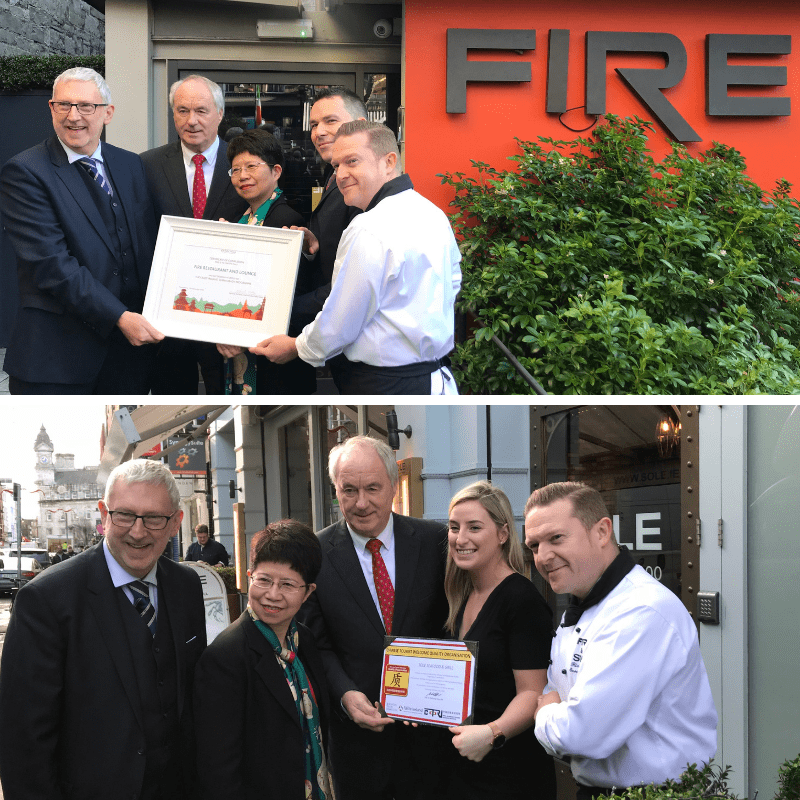 Richie Wilson Executive Head Chef at FIRE & SOLE said:
"We are incredibly proud that FIRE Restaurant and Lounge and SOLE Seafood and Grill are the first restaurants in Ireland to receive the Fáilte Ireland 'China Ready' accreditation. The programme has educated staff across all departments of cultural differences, given us a greater understanding of the Chinese tourist market and provided us with the information and tools to implement positive changes to ensure all our guests will receive the best possible SOLE or FIRE experience. 
With these new changes in place we look forward to welcoming more Chinese guests to SOLE Seafood and Grill to experience the wealth of locally sourced Irish seafood and meat Ireland has to offer and to FIRE Restaurant and Lounge to enjoy our award-winning Irish beef while dining in a part of Dublin's history, FIRE's dining room was originally built in 1864 as the Lord Mayors supper room and still features all the original architecture."