Beating cancer and learning to walk again: Ciarán is attempting both!
Here at FIRE, we work with a number of wonderful charities throughout the year, this year we are grateful to have the opportunity to help support something a little closer to home.  In August our General Manager, Andrew Fisher, will be attempting his first ever Triathlon while also raising money to help a friend walk again! When we heard Ciarán's story and saw the training Andrew was putting in we wanted nothing more than to help.  So not only will we here at FIRE Restaurant and Lounge be donating €500.00 to Ciarán's GoFundMe, our sister restaurant SOLE Seafood & Grill will also be donating €500.00.  At FIRE we are also going to donate €1 from every bill over €55 when customers quote 'Triforciaran' so you can all help support such a wonderful cause and help Ciarán, who is just so inspirational.
Ciarans Story 
In September 2016 after returning from a holiday abroad, Ciarán began to notice an unrelenting pain in his back. After a few short weeks, an MRI was advised. This revealed a tumour within his spinal cord – an exceptionally rare occurrence putting him in a very small percentile of the world's population.
Surgery was high risk and only to be done if necessary. Following close symptom observation, the agonising decision to operate in January 2017 was reached. It was to be an explorative biopsy and for tumour removal if possible. Unfortunately, Ciarán awoke from his operation to be told he was paralysed from the chest down. Additionally, his tumour was an aggressively cancerous anaplastic astrocytoma.
Ciarán spent the following seven months in the hospital, firstly receiving a course of radical radiotherapy alongside a course of chemotherapy, and then in the National Rehabilitation Hospital (NRH) adapting to his new life. It was an extremely scary and uncertain time for Ciarán beginning his intensive physiotherapy at the NRH whilst still awaiting results for an illness with a poor prognosis. Despite this emotional, mental and physical pressure, he worked his body and mind like never before. In the weeks he spent there, he began to stand again and by August, he took a few short, familiar and welcome steps with the help of aids
Fast forward to February 2018 and finally, there was some good news from the doctors. Against the odds, Ciarán's cancer doesn't appear to be getting any bigger and has, in fact, shrunk! After months of knowing he was learning to walk again with no concept of how long he'd be around to walk for, this news finally allows Ciarán to put extra focus and energy into recovery.
Ciarán is now pursuing specialist neurological care in Cambridge, U.K. and further afield in the U.S.A. later this year. He is also seeking access to new technology that may complement current rehabilitation practices. Such treatment, travel and physiotherapy equipment are proving expensive, but they are also proving worthwhile. Recovering from a spinal cord injury requires an indefinite amount of time, expertise and energy.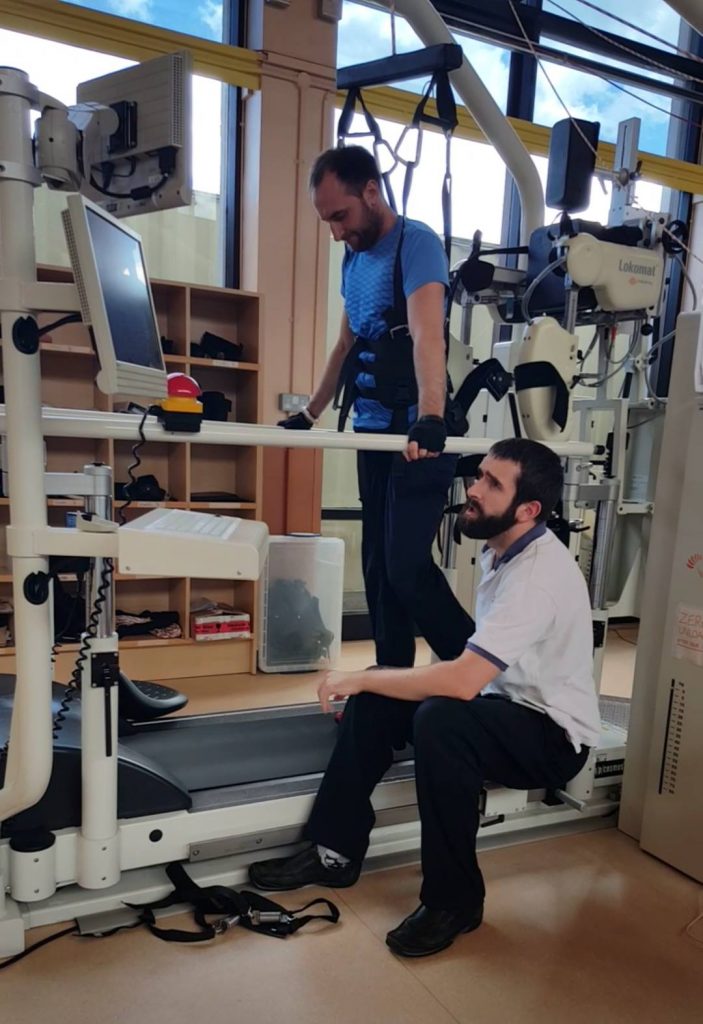 ANDREWS STORY
I heard about Ciarán from a very good friend of mine, though did not meet him until several months after. All I knew was the back story. That he had come home from a holiday, experiencing pain in his back, and that he then received the worst news any of us could imagine. As everyone would, I felt for him and his girlfriend Gemma and immediately thought how fortunate I was to have the life that I have.
I was lucky to meet him at the same friend's wedding in France a few months ago. As a matter of fact, on the day of the wedding, we sat beside each other at the Grooms family's table having breakfast. As I knew about his condition already, what struck me was the fact what if I was not aware, I would never have guessed the challenges that he was facing. Although on crutches, he never showed any sign in our conversation that he was someone who had experienced the difficulties he has over the past few years. He was smiling, joking, and I was taken aback by the optimism and good humour he had. I could not help but instantly like and admire him.
Speaking to his Girlfriend Gemma, who had asked me to donate a voucher from FIRE Restaurant for an upcoming fundraiser, I was again blown away by her courage, and her obvious devotion to Ciarán, now her Fiancée, and learned more about the sacrifices she had made in order to aid his recovery.
As I was already looking for a cause to hopefully contribute too, I felt that these were two fantastic individuals who needed a little help, and I am hoping with the assistance of my family, colleagues, friends and customers, that we might be able to do something special. I will be competing in my First Triathlon, the Ironman 70.3 in Dun Laoghaire on August 19th, and all proceeds raised will be going to Ciarán and helping in his recovery to WALK AGAIN!!
If you would like to make a direct donation to Ciarán you can do so through his GoFundMe 
Any financial assistance you can offer Ciarán to help him on this journey would go a long, long way. We hope you'll join him in taking the next steps.
#TRIFORCIARAN