April Cocktail of the Moment
'Brannick Fig'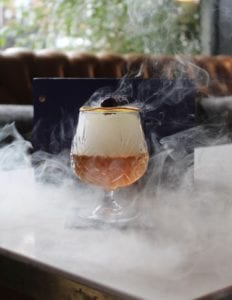 Our April Cocktail of the moment, 'Brannick Fig', is the creation of our Mixologist, Michal Sivy.
Brannick Fig is a delicious blend of DWD Irish Whiskey, Creme de Figue, Darjeeling Liqueur, Homemade Fig, Plum and Orange Tea Syrup and Orange and Mandarin Bitters. Smoked with Applewood chips and garnished with a DWD Whiskey marinated Cherry and dried Orange.
---
Michal was inspired by the story of the founder of DWD Irish Whiskey, John Brannick, an exceptional distiller who remarkably became at one time Master Distiller for three of Dublin's six Great Distilleries.
Brannick's passion to create the "Finest Whiskey in the World", coupled with his fervent belief that the great distilleries of Dublin were duty-bound to uphold their fine tradition, brought him into legal conflict with his former employer, George Roe & Sons. Every September the price of Irish whiskey was set after the annual harvest. In 1878, the harvest in Ireland was particularly poor, leading to a shortage of native grain and higher whiskey prices. Accordingly, all the Dublin distilleries raised their prices. All except George Roe & Sons. From Brannick's 20 years' experience with the House of Roe, he believed the only way his former employers could maintain the price of their whiskey was by using cheaper – and inferior – imported grain. When George Roe & Sons sued for libel, demanding damages of £10,000, Brannick took the stand, expressing his disappointment that the great House of Roe had engaged in such tactics. Though Roe & Sons won their case on a legal technicality, the jury clearly agreed with Brannick, awarding the company one-hundredth of the figure they'd demanded. Never again would one of the six great Dublin distillers attempt to use imported grain in their whiskey mash.
This story epitomises the man and his principles, which DWD Irish Whiskey continues to embrace today in their singular passion for Irish whiskey and the pursuit of excellence.
---
The 'Brannick Fig'cocktail is available in our Lounge or Restaurant for the month of April only. A full Cocktails and Drinks Menu is also available daily in FIRE Restaurant and Lounge.
To make a booking:
Click HERE
T: +353 (0)1 676 7200